TELEPRESENCE by Polycom
"It's Like Being There"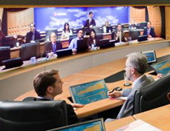 There is nothing like the new Video Conferencing products from Polycom, the leader in Telepresence today.
Large Room Telepresence
Polycom offers a wide selection of High Definition Telepresence solutions using IP networks that range from personal desktop solutions to "war room"size solutions for teaching, training, and business teleconferences.

Single Room Telepresence
Polycom's high definition solutions for single room situations can help meeting groups come to resolutions and agreement in 1/2 the time of telephone type meetings. Cutting out travel pays for the system in record times and more informed decisions mean more profits to the bottom line.
Personal Telepresence
Polycom Personal Telepresence solutions bring people together in high definition. Working from home or a remote office is not lonely anymore...and less travel means more family time, more productivity where ever you are.
The Polycom VVX 1500 is both a video conferencing system built into a fully featured voice over IP (VoIP) telephone along with Polycom HD Voice (wideband telephony) that comes with a 7" color touch-screen interface bringing you the best of both worlds, Polycom voice and video in one device.
Polycom Telepresence
Save time, save travel, and build relationships faster.
A Polycom telepresence experience provides a natural "across the table" experience that is so close to reality, you'll feel like you are actually there. Participants can be shown in true life dimensions, and read the body language of each other during the meeting or conference. And Polycom teleconference solutions are easy to set up and use. They are also quite scalable so the system grows as your organization grows right along with it. Polycom offers different sized systems for different spaces, capacities, and budgets. Set up effective meetings in 1/2 the time, conduct sessions and make decisions increasing productivity and saving thousands in travel and inconvenience.
With Polycom telepresence solutions, you can:
Give executives and participants the power to make decisions immediately, just as they would in a real live meeting.
Participants spend more productive time working instead of traveling.
Build business relationships faster with face to face meetings
Collaborate across distances through screen sharing and body language.
Cut decision making time dramatically and reduce time spent to market.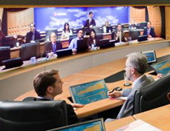 Polycom RPX HD 400 Series
This is the choice for medium to large groups needing to come together. The Polycom RPX 400 series can deliver high definition video, audio, and content sharing against a cinematic, 16 foot video wall that seems so real you want to reach through the screen and touch the participants.

Polycom RPX HD 200 Series
The Polycom RPX 200 series utilizes the feature sets of the 400 series for smaller groups by accommodating small to medium sized groups with seating for up to 18 participants.

Polycom Telepresence Experience TPX HD 306M
The Polycom TPX 306 series delivers immersive telepresence to organizations seeking an extraordinary true-to-life meeting experience for smaller groups. Perfect for conference board rooms, training facilities, and class rooms.

Polycom Architected Telepresence Experience HD 300
The Polycom ATX HD 300 solution is everyone's choice for smaller room environments. See it in person to appreciate the reality of Polycom Telepresence.